Rosemarie Smallcombe, Mariposa District 1 Supervisor

Mariposa County Proposed Code Enforcement Ordinances
The County has a long-standing problem. One of our key priorities is to protect the health and safety of our citizens. We do this by requiring compliance with our County codes, building, marijuana and otherwise. The problem is that we have no cost-effective or timely manner of enforcing these codes, and right now there are over 500 code compliance violations cases some of which have gone on for years without resolution. Everyone, including the illegal marijuana growers, seems to know that the County has no effective code enforcement mechanism and they basically thumb their nose at the County. Current County code basically defines code compliance violations as misdemeanors and enforcement means using the criminal justice system and the Superior Court which is both costly and takes a long time for resolution. This mechanism is so draconian that it does not make sense to use it for any but the most egregious cases.

County staff have been working on a code compliance ordinance for years that allows the County to use a series of non-criminal fines to encourage code compliance, rather than the court system. This matter came before the Board on October 20 and the first reading was approved by the Board.

This issue will come before the Board again for discussion and a second vote. Until then I remain open minded and will listen to further input from County staff and the public. However, given the incorrect information currently circulating, I decided to share my understanding of the issues in the form of an FAQ based on information available to date.

I am not expert on this subject, but I have pulled together the information in the FAQ. Please submit substantive questions or recommended modifications to the code to René LaRoche, Clerk of the Board René LaRoche, Clerk of the Board, rlaroche@mariposacounty.org, (copy me or your Supervisor if you like) and we will do our best to respond as quickly as possible. Facebook is not a good means of communication because the County can't capture it as part of the public record and because of blocking (see question in the FAQ on public comments.)


------------------------------------------------------------------------------------------------------

Seniors, Do you need help with minor home repairs?
Area 12 Agency on Aging working with Habitat For Humanity of Mariposa County can help with minor home repairs and yard work for seniors in the County. Minor home repairs can include light electrical, installation of grab bars, minor step repair, or repairs to aid in fall prevention. Phone numbers are (209) 532-6272 or (800) 510-2020.



Businesses, can you help seniors with yard maintenance and minor home repair including light electrical and plumbing?
The Area 12 Agency on Aging is looking for businesses that can provide the minor home repair and yard maintenance services they offer to seniors in Mariposa County. For example, if a senior is advised by County Fire to weed-eat their yard, Area 12 can contract with a business to have them complete the work for the homeowner. A12AA asks that the business carries $1,000,000 general liability and $500,000 in auto liability. If you are interested, contact Doreen Schmidt at Area 12 at 209-532-6272, ext. 205.
--------------------------------------------------------------------------------------------------------

Mariposa County Budget
Dallin Kimble, Mariposa County's CAO, gave a presentation at the Board of Supervisors' Meeting on April 7, 2020 to outline a framework for developing a budget that accounts for the impacts of the Covid-19 pandemic. That presentation is available here as a web-based presentation or can be downloaded as a pdf document (13 Mbytes) by clicking here. 
------------------------------------------------------------------------------------------------------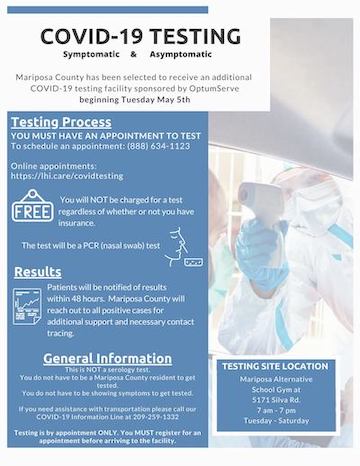 New Site, Expanded Capacity for Public COVID-19 Testing Is Now Available
Click here for a high resolution version in pdf format.
-----------------------------------------------------------------------------------------------------
Slideshow on the Ferguson Slide Project
Allen Lao, Project Engineer at Caltrans for the Ferguson Project, developed the presentation pictured below for the YARTS' Board of Directors.
One of the key takeaways is that construction will begin in late summer 2020, but those minor operations will not have significant impacts on traffic. The contractor will NOT be removing talus from the slide area until sometime in 2021.  The presentation can be downloaded as a pdf document (4.6 MB) or viewed as an online slideshow without the need to download.
-------------------------------------------------------------------------------------------------
Information on COVID-19 Related Food Distribution
Here is a pdf document prepared by County staff outlining the various channels for food distribution during the COVID-19 outbreak. 
-------------------------------------------------------------------------------------------------
Information from the County's Health and Human Services Agency on Health Insurance and Food Assistance During the Coronavirus (COVID-19) Pandemic

The County's Health and Human Services Agency prepared flyers in pdf format on how to apply for health insurance in English and Spanish. Click on the right link to download.
The County's Health and Human Services Agency prepared flyers in pdf format on how to apply for alFresh food assistance in English and Spanish. Click on the right link to download.
-------------------------------------------------------------------------------------------------
Board of Supervisors Salary Adjustment
Here is a detailed response to some of the misinformation being used to oppose this action.  In my response, I address:
Per Capita Income – The "raise" is not larger than the per capita income for the County.
The Compensation Analysis – Supervisor salaries must be competitive with other jobs in the region to attract qualified candidates other than retirees.
Compensation Studies, Apples and Oranges – there is no other Mariposa County.
The Fiscal Impact of the Salary Adjust – Yes, it makes dollars and sense.
The Timing Issue – This issue could have and should have been made public a year ago.
Which Way to Go – who should be a County Supervisor?
I also identify the need for a code of conduct and job description for Mariposa County Supervisors.  For the sake of full disclosure, I was in Sacramento all day yesterday in my leadership role on the Wood Utilization Working Group and in a Board of Supervisors meeting today, so I asked my husband Steve to pull this together and put it on my website.  Thanks for caring about our County and for being part of the conversation!
-------------------------------------------------------------------------------------------------------
Ferguson Slide Project
Here is a link to the video on the Ferguson Project that was part of the Caltrans presentation at the Open House in El Portal Tuesday night. The animation shows the sections of the rockshed being moved into place by powerful jacks so that workers will not be in danger of possible falling rock. 
In addition, Caltrans staff responded to a number of questions and have a few more they're researching. The key takeaways are that the first phase of the Project is debris removal, about 84 cubic tons of it, or about 3 times what they removed last time! Removal from the slide area will involve the use of remotely controlled machinery so that workers will not be in danger if new slides occur. The material will be trucked to the Mariposa landfill beginning in July 2020. So, traffic going between the slide area and the landfill may be slower than usual. 
The actual construction of the rockshed is expected to start sometime in the spring or summer of 2021 and to take three to five years.
-------------------------------------------------------------------------------------------------------
Briceburg Fire Video
Click here for information on the Briceburg Fire including a YouTube video from the Briceburg Fire meeting on Tuesday Oct. 8th at the Midpines Community Center.
-----------------------------------------------------
For Yosemite West Property Owners,
The next regularly scheduled meeting of the Yosemite West District Advisory Committee is scheduled for this Thursday, September 12th at 2:00 at the NatureBridge campus on Henness Ridge Road with this Agenda.
I hope you can attend. In preparation for that meeting, Ms. Kassy Chauhan, Senior Sanitary Engineer, Merced District of the Division of Drinking Water of the State Water Resources Control Board prepared a letter about the proposed expansion of the Yosemite West service area. Also attached is the sanitary survey report recently completed by the Division that is referenced in Ms. Chauhan's letter. Ms. Chauhan has agreed to call into the YW DAC meeting to review the main points of her letter and answer questions.
----------------------------------------------------------------------------------------------
Fire in The Sierra
The Central Sierra Historical Society and Museum is proud to present, "Fire in the Sierra: Learn from the Past, Create a Better Future". Scheduled for February 23rd in Mariposa at the Board Chambers, this session will be focused for those who work in natural resources, support organizations that do, and who influence the region.
This one-day workshop will include presentations from a variety of speakers including professional foresters, professors, wildlife biologists, and those working in natural resources. Please see the itinerary below.
By attending you will gain a perspective on the history of fire in the Sierra Nevada and a comprehensive overview of the current challenges and opportunities surrounding the management of forest lands and the influence of fire in the Sierra.
Space is limited for this event and registration is required. A light lunch will be provided. The workshop series is made possible through a grant from the Institute of Museum and Library Services.
If you would like to attend this free event call (559) 841-4478 or e-mail Lisa Monteiro at lisa@sierrahistorical.org.
Funding Assistance for Federal Employees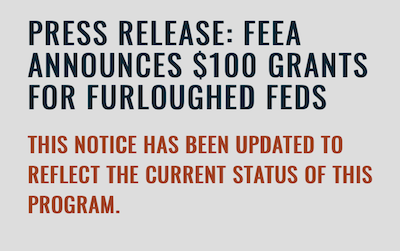 The Federal Employee Education and Assistance Fund is making $100 grants available to civilian federal employees impacted by the shutdown. Please read and share the press release available By clicking here.
Also, a group of Mariposa citizens has pooled some funds to offer no interest loans to such employees who need help. For more information, contact Kim Monson at kimellen13@gmail.com
Highway 140 Open Thursday AM
As can be seen in the announcement from Caltrans below, Highway 140 is open again as of 6:30 AM Thursday January 17th, 2019, after being closed for 11 hours. While this closure was made for the sake of public safety during the winter storm, it is worth noting that during the closure, Caltrans removed over 50 yards of rock and other debris from the roadway!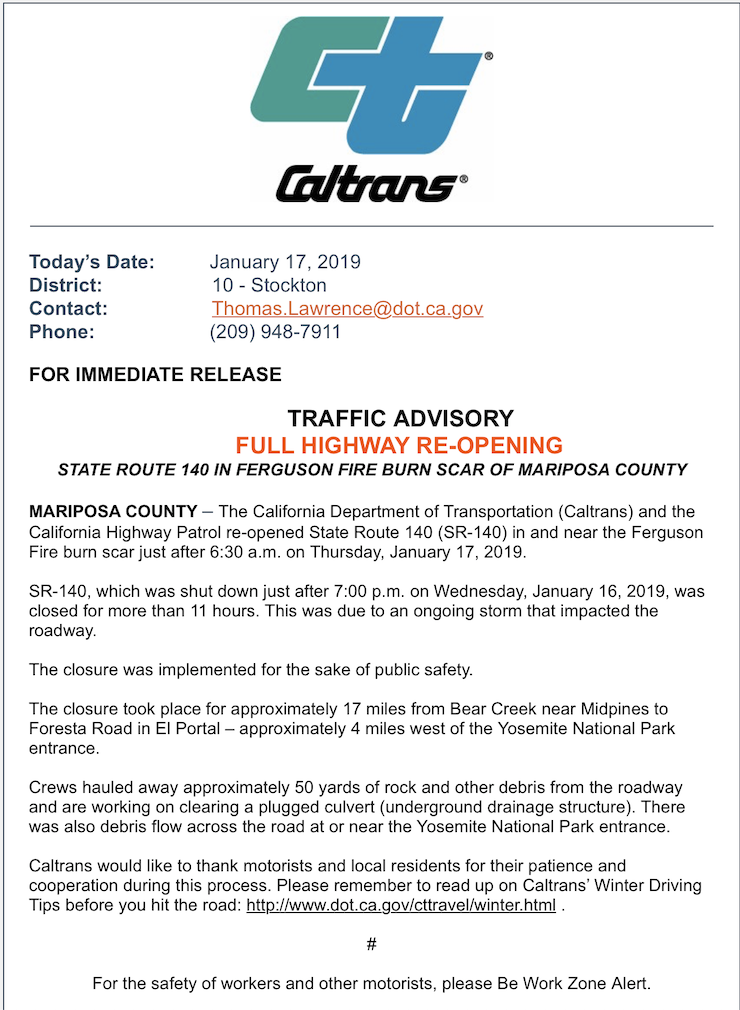 Highway 140 Full Road Closure
As discussed below, major storm events in the Ferguson Burn scare area may lead to preemptive road closures to protect public safety. Above is an announcement of just such a closure starting Wednesday January 17th at 7 PM. The reopening will obviously depend on the extent of the damage, if any from the storm.
Ferguson Fire Related Potential Road Closures
Experts agree that in the aftermath of the Ferguson Fire road closures caused by mudslides and rockslides are inevitable. A team of experts is working to protect public safety while minimizing inconvenience to residents and visitors when these events happen.
To keep the affected communities informed of these efforts, I asked people from these organizations to talk about their efforts at two community meetings, the first in El Portal occured on October 18th at the Community Hall; the second is scheduled in Midpines on the 24th in the Bodie Room at the Yosemite Bug at 5:30 PM.
Details from the El Portal meeting including an audio recording are available here. I recently added the ability view Greg Stock's and Kellen Takanaka's slides with audio.
Mariposa County Financial Circumstances
Please read and share — the County has scheduled evening meetings this week to discuss our financial circumstances in light of the many recent disasters as well as ongoing maintenance and development needs. There's one tonight at the Midpines Community Center, one in Ponderosa Basin tomorrow night and one next Monday at the Board Chambers. This link provides more details. Please attend if you can!
2018 Election
The deadline for candidates to file for 2018 election cycle was Friday, March 9th at 5 PM. As of 5 o'clock on Friday, the Elections Office confirmed I'm the only candidate running for Supervisor in District 1. This means that rather than spending time campaigning between now and June, or potentially November, I can concentrate my efforts on the important matters facing our District, Mariposa County and the State. I appreciate everyone's support and look forward to continuing our work together. As always, please do contact me with any questions or concerns either on Facebook or via e-mail:
For campaign related matters: rms@rosemariesmallcombe.com
To contact me as a County Supervisor: rsmallcombe@mariposacounty.org
Here is the press release from when I declared my intention to run for re-election.
COMMUNITY HEALTH ASSESSMENT MEETING
Thursday, January 18, 2018 , 1:30 – 2:30 PM. See flyer here. Please plan to attend this meeting if you'd like to help improve the health of Mariposa County. We're one of a relatively small number of counties in the entire country that is pursuing accreditation. This meeting, as the flyer notes, will help the outside consultant working with our Health Department to develop a comprehensive Community Health Improvement Plan — something we haven't had before! Come learn about the accreditation process and share your thoughts and suggestions about how we can do better!
My first two and a half years in office have been exciting, and I am working very hard - in the office every weekday and working on the Board packet during the weekend in preparation for the next week's Board meeting. I've also been traveling a lot in my conjunction with my responsibilities with the County and Governor's tree mortality committees and working groups. I continue to pursue my efforts to assure those who live in rural communities, especially those in the Sierra, have access to affordable home owner's insurance.
Sierra National Forest Fire Restrictions
The Sierra National Forest has imposed fire restrictions at elevations below 4,000 feet in Mariposa County. Caltrans and the Forest Service are coordinating to place various signs on the way to and within the River Canyon to alert visitors of the fire dangers.  Click here the Forest Order.
Detwiler Fire
Mariposa County Environmental Health is making a lot of very good information available to residents impacted by the Fire. That includes information on removal of household hazardous waste (HHW) and health hazards associated with exposure to ash on burn sites. The County has developed the Right of Entry form necessary for the agencies to remove the HHW.
County Environmental Health has also developed a brochure to help residents evaluate their wells after the Fire and ensure their water is safe to drink.
Above is a way we can all have some fun and help those who lost their homes in the fire. The event is on Saturday 7/29 at 7 PM and is sponsored by the Yosemite/Mariposa Tourism Bureau.
Here is the AM report from CAL FIRE for 7/29 AM with 80% containment.
Here is the report from CAL FIRE for 7/26 AM with 65% containment.
Here is the report from CAL FIRE for 7/25 PM with 65% containment.
There is a new update on 7/25 from PG&E available here.
Here is the report from CAL FIRE for 7/24 PM with 60% containment.
The 7/24 morning report (here) shows 50% containment and the number of our friends and neighbor's homes destroyed has risen to 63. Total personnel on the fire: 5128!
Returning Home After a Wildfire is document from CAL FIRE and PG&E that gives good advice on how to check out your house and property.
Here is the news that the folks in Midpines, and many others, have been waiting for - the noon update on 7/23.
Here is an update from CAL FIRE on 7/23 that now reports 40% containment!
There is a new update late on 7/22 from PG&E available here.
Mariposa County Human Services and Public Works are offering additional services to help people recover from the Fire.   Specifically, Public Works has set up food waste disposal behind the Chamber of Commerce and the Solid Waste Facility will be open Monday through Saturday.  Download the details here. They're also offering disposal services in other areas of the County as described here.  Human Services will hold a Local Assistance Center at the High School on Tuesday. Details here.
Click here for information on insurance issues I received from a personal property consumer advocacy group – United Policyholders – that I've worked with on insurance issues in the Tree Mortality Task Force. 
Also, for those with respiratory and other health issues, here are some things you might want to consider.
This is a very useful map that uses color to show the progression of the fire. Click here to download a higher resolution version.
The next CAL FIRE community meeting will be at the high school in Mariposa at 7 PM.
Here is a quick update from CAL FIRE on 7/22 that now reports 30% containment!
CAL FIRE and the Sheriff's office took the County Supervisors on a tour today, July 21st, of some of the areas affected by the Detwiler Fire. After dropping off the other Supervisors, CAL FIRE and the Sheriff's office took me to the top of Telegraph hill to see the conditions and fuel breaks there. Pictures are available here.
Here is the latest press release from the American Red Cross about the resources they are making available in this area. Note that the 559-343-2549 phone number can also be used to help in locating family members or friends.
You can read the CAL FIRE Incident Update Sheet as of 7 PM on the July 19th here, the 20th at 7 AM here, 7 PM on the 20th here, and 7 AM on the 21st here, and 7 PM on the 21st here.
The Detwiler Fire that started on July 16th, 2017 is currently threatening a number of communities in Mariposa County. I'm in contact with a number of officials, including CAL FIRE and PG&E regarding this dangerous situation. I've created a Detwiler Fire page to pass information along. There clearly are other sources of information including fire related Facebook pages and those pages often contain useful information, maps, etc. However they also can contain incorrect or out of date information because things change so fast. The Detwiler Fire is especially dynamic. The Sheriff's Department evacuates people at CAL FIRE's request, so if any emergency personnel tell you to leave, do so as soon as possible. CAL FIRE's goal is that everyone who is evacuated will return to find their home is also safe. It is far better to have our firefighters saving homes, than dealing with last minute evacuees.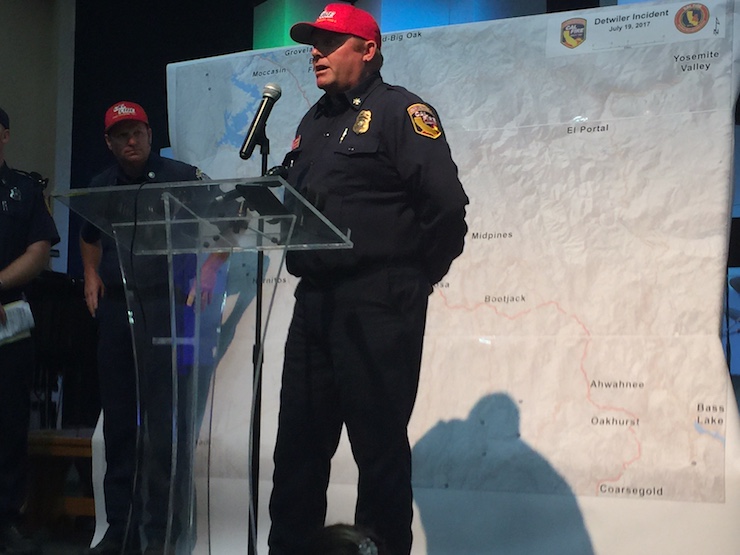 CAL FIRE held a community meeting at the Mountain Christian Center in Oakhurst on July 19th at 7 PM. Here is an audio recording of that meeting. A video recording can be found here thanks to CAL FIRE and the Sierra Sun Times. The ABC30 video of the meeting is also available here. A video of the CAL FIRE meeting in Merced on Thursday the 20th is here, again thanks to the Sierra Sun Times.
The Governor has declared a State of Emergency and issued an Executive order to aid in the recovery from the Detwiler Fire.
Historical Preservation
Here is a presentation about historical preservation that I would like to present for ideas as to how we might preserve our history.
The Temporary Sorting and Debris Reduction (TSDR) operation at the corner of Triangle and East Westfall
A few months ago there was lots of discussion of placing a Temporary Sorting and Debris Reduction (TSDR) operation at the corner of Triangle and East Westfall for use by PG&E and those companies that PG&E has contracted with to remove the dead trees that they have felled near peoples homes as part of PG&E's debris management program. The plan was that at the TSDR site, logs that were merchantable would be separated and sent to appropriate sawmills, etc. , and slash and otherwise unusable wood debris would be chipped and sent to biomass facilities. Some people with properties nearby objected. PG&E has abandoned plans for using this property and is now hauling the same logs and debris to a similar site in Oakhurst. PG&E reports that using Oakhurst has significantly raised their costs.
Tree Mortality
As can be seen below, working with Don Florence from the Mariposa County Office of Emergency Services, I started the Mariposa County Tree Mortality Committee in July of 2015 to focus efforts within the County on mitigating the effects of Tree Mortality on our community. Since then I have been asked to join the Governor's Tree Mortality Task Force, which meets in Sacramento, as well as subcommittees on Biomass Utilization and Regulations where we work with various state and federal agencies to address the tree mortality disaster.
In March, I was invited to testify before the State Senate Committee on Insurance on how the current tree mortality disaster affects the ability of homeowners in the County to obtain fire insurance. You can read my testimony here. Fortunately I was able to meet twice with the State Insurance Commissioner, Dave Jones, the week before the testimony and give him a "heads up" on how this disaster is affecting rural communities.
One of the things I addressed in my testimony before the Senate Committee, is fire insurance through the FAIR plan, a state-sponsored insurance organization designed to be the insurer of "last resort" for those who can not obtain insurance otherwise. As you can read in my testimony, however, the FAIR plan is becoming far too often the only viable option for fire insurance for many homeowners in the Sierra. The FAIR plan is not ideal however as the coverage is not as broad as normal homeowners' insurance and homeowners then typically have to obtain additional coverage, e.g. liability insurance, through some other insurance provider. At this time it is also not clear whether it is necessary to remove excess vegetation around the home to obtain insurance under the FAIR plan.
It is the job of the Governor's Task Force and related committees to understand and eliminate issues keeping our state agencies from quickly and effectively dealing with the tree mortality disaster that places our mountain and foothill communities in danger. I am pleased to be able to contribute to this effort.
The tree mortality problem is truly a disaster for the Central and Southern Sierra so I've posted a somewhat lengthy description of what I am doing on the Mariposa County Issues page. I have also posted about this on my Facebook page and would welcome your input there.
Mining in Mariposa County and the Conditional Use Permit II
Tuesday afternoon, November 17th, the Mariposa Board of Supervisors held a public hearing and voted to adopt proposed changes to our General Plan and zoning code related to mining operations on privately owned property (as opposed to such operations on publicly owned lands (e.g., Forest Service and BLM lands)). The second and final reading of the proposed changes is scheduled for the Board meeting on December 15, 2015.
From a practical standpoint, the changes approved by the Board are
(1) Mining operations that fall below the Surface Mining and Reclamation Act (SMARA) thresholds (less than 1 acre and 1,000 cubic yards of material) will be subject to an Administrative Use Permit;
(2) Mining operations on parcels in the Agriculture Working Landscape classification that are 160 acres or more will be subject to a Conditional Use Permit; and
(3) Existing legally permitted mining operations will be grandfathered.
Read more on this subject here.
Great News! On October 30th, the Governor declared a State of Emergency relative to Tree Mortality in the Sierra and asked Secretary Vilsack for federal funds to help with mitigation and recovery efforts. Read the details here.
I have now also added a page on Mining in Mariposa County and the Conditional Use Permit.
Contact Rosemarie: rsmallcombe@mariposacounty.org
The material below appeared while this page was in campaign mode
Rosemarie Smallcombe has won the election for Mariposa Board of Supervisors, District 1.
The unofficial final results are now in. With 100% of the votes counted:
Rosemarie Smallcombe 58.6%
Karen Smith 24.2%
Brad Aborn 17.2%
Rosemarie wins outright with more than 50% of the vote and will not have to compete in the November election! The phone has started to ring with calls of congratulations!
See Rosemarie's Certificate of Election.
I just received her official notice of the Swearing-in Ceremony on January 6th. I very much appreciated the effort so many people put into getting me elected and I hope you all can attend the ceremony at 9:00 AM at the Board of Supervisors Meeting. See official notice here.
The Sierra Sun Times conducted a poll the day after the election about whether or not people were surprised about Rosemarie capturing almost 60% of the vote in a three-person primary.
Information posted prior to the Election
At the various candidates' events, I have advanced the idea of a biomass facility here in Mariposa County as a way of promoting forest health and fire safety while diversifying our local economy. We now have a website for the Mariposa Biomass Project for those interested in learning more details about the proposed project.
The J.C. Fremont Healthcare District has had financial challenges in the last few years because of Medi-Cal budget cuts. Find out how Rosemarie helped the Healthcare District in this crisis.
I am proud to have been endorsed by organizations with a wide range of interests including the Mariposa Gazette. See my new Endorsements Page, or read Letters to the Editor from my supporters.
You need to be registered to vote to vote for Rosemarie. May 19th was the last day to register to vote for the June 3rd election. If you are not registered, make sure you register to vote before the November elections when the District 1 representative to the School Board will be elected. You can register to vote online: http://registertovote.ca.gov
A video for the AAUW May 7th District 1 Candidates forum in El Portal is now available thanks to the Sierra Sun Times. Note which candidate brought great tasting local water to the event in a reusable bottle.
There is a new item on the FAQ page concerning Rosemarie's experience with handling complex issues. Even here supporters are likely to learn something reading this entry!
The AAUW sponsored a candidates forum on April 30th with all 8 candidates for Supervisor present. A Sierra Sun Times video of the event is here.
Read Rosemarie's views about the proposed Conference Center/4-star Hotel and the NPS Visitors Center on the updated Mariposa County Issues page.
The Mariposa Gazette asked all the candidates to respond to a series of questions. Read the answers to the first question about the candidates' top concern here. The second question in the Gazette series asks the candidates about the County's economy and jobs. Read the responses here. The third question and answers are about fiscal responsibility. The forth question and answers are about career and life experience. And the fifth about why do you want to be a County Supervisor.
All of the District 1 and 3 of the District 3 candidates spoke at the April Mariposa Democratic Club Meeting. Here is a link to a video taken by the Sierra Sun Times of the various candidates and the Q&A sessions.
The June Election: It's been so many years since we've had more than 2 candidates running for Supervisor in District 1 that many people have forgotten the election on June 3rd is essentially a primary election requiring at least one candidate to receive 50% plus 1 to win.   With three candidates in the race it is unlikely that one candidate will achieve the necessary 50% plus 1 votes and the top 2 candidates will compete in a runoff on the November ballot. Here is an article from the Sierra Sun Times that discusses this process relative to the 2012 election.
Rosemarie Smallcombe: Rosemarie has used her business and management experience combined with her love of the environment and her fellow citizens to make a difference in Mariposa County as can be seen in the Rosemarie in Action page and various articles in the local press. There is also a very special story called Rosemarie, Reagan and the Prince of Darkness.
Read Rosemarie's campaign announcement as it appeared in the Mariposa Gazette and the Sierra Sun Times.
"Service to community is one of my core beliefs. My demonstrated commitment to the community, success in building relationships among groups with varied interests, and experience you can trust to solve complex problems will benefit District 1 and Mariposa County.
Helping small business and developing the economy, while preserving the rural character of the region, is a priority for me. Resource protection and job creation are not mutually exclusive -- they should be partners. Serving the people of District 1 would be a privilege. I want to give back to the community that I call home." - Rosemarie Smallcombe, Candidate for Distict 1 Supervisor
Frequently Asked Questions: Check out the new FAQ page for other questions you might have about Rosemarie and the campaign. For example: Does Rosemarie hate horses? Not even close. She loves them!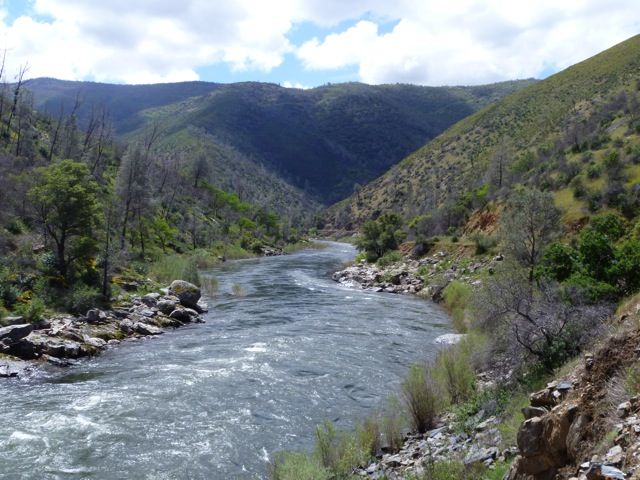 Photo by David Greenwood of the section of the Wild and Scenic Merced River that Rosemarie is fighting to protect.

Vote for Rosemarie on June 3 or on your mail-in ballot

Contact Rosemarie: for campaign related matters - rms@rosemariesmallcombe.com
To contact me as a County Supervisor - rsmallcombe@mariposacounty.org